On Monday 8t November I weighed 95.5kg. That's a loss of 1.25kg (2.8lbs) since last week and a total loss of 12.5 kg – that's 27.5lbs – since the start of the diet! That is almost 2 stones.
So I am happy again that I managed to lose over a kilo after the disappointment of last week.
This week I tried to walk every day, even if it was just the length of the beach and back.
I had very few transgressions and i have found that I am only having a lunchtime 'brunch' type meal rather than adding breakfast in as well.
On Friday we decided to go and camp out for the night. We went down to a very secluded beach and, even after getting the car as near as we could, it was still a good 30 minute hike across mountain terrain.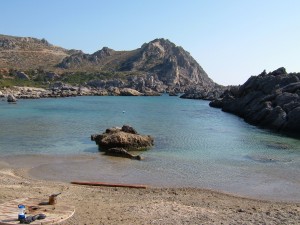 When we arrived I took a heavy pack down to the beach, set up the tents and then returned up the mountain and back down again with some extra supplies. The next day, of course, I climbed the mountain again. So good exercise those two days.
The other thing I realised is that catering for the Dukan Diet whilst camping out is easy.
It is not so easy to cook elaborate food when you are travelling light. It has to be more basic so the likes of grilled chicken souvlaki or simple grilled fish (if you can catch any) is ideal. We took some chicken breasts with us on day 1 which were frozen. They defrosted and were ready to cook on day 2 lunchtime. A little bit of marinade and a hot barbecue and we were in heaven.
Although I realise that I fall short on exercise, I am feeling so much fitter than I was 5 weeks ago. I seem to have more energy and just feel better. It is hard to describe as I didn't feel bad before.
I occasionally get hungry. I know that you can eat as much of the allowed foods as you wish but, partly because i get wrapped up in my work,  partly because I am conscious of not wanting to eat too much and also partly because I worry about the expense of piling pricey meats onto my plate. This is where I get annoyed with the diet. As I said before, when I get hungry I have to eat. There are few things I can just pick up & eat with the diet – which probably says a lot about me being unprepared. So, I am hungry, getting tetchy and…I have to start cooking. Bah!
But when I step on the scales like I did this morning, or when I put on some trousers which I haven't fitted into for at least 5 or 6 years like I did this afternoon, the small annoyances fade into insignificance.
PS. my big transgression this week was planned. As soon as I had pitched camp and dashed up and back down the mountain, I relaxed with a cold (ish) beer. my first beer for 7 weeks!